2018.07.19 Thursday
Argyle Diamonds Not Forever
Argyle diamonds not forever
In an update released alongside Rio Tinto's 2017 annual report, it was revealed that Argyle's likely closure date had been brought forward to sometime in 2020.
もう既に分かり切っていることとは言え、
このようにショッキングな見出しの記事を目の当たりにしますとやはり、
胸がギュッと締め付けられるような圧迫感!?
Argyle鉱山を保有するRio Tinto社の2017年の事業報告書でしょうか、
2020年の遅くない頃にArgyleは閉山するということが明らかにされたと・・・
 ・・・・Antwerpのダイヤ輸出商から、この記事を読めと、メールに添付して送られて来たものを、いつものように拙い和訳で誠に申し訳ないですが、以下に記述いたします・・・・
Rio Tinto has unveiled the largest vivid pink stone in the 34-year history of the Argyle Pink Diamonds Tender — considered one of the most exclusive diamond sales in the world.
(Argyle鉱山を経営する)Rio Tinto社は、世界で最も高級品を取り扱う競売会のひとつであると思われるArgyle Pink Diamonds Tenderの34年の歴史の中で最も大きなVivid Pinkを公開した。
The company's Argyle mine in the East Kimberley produces more than 90 per cent of Australia's diamonds, and is the only known source of pink diamonds in the world.
オーストラリアの東キンバリーにあるArgyle社の鉱山は、オーストラリアのダイヤモンドの90%以上を産出し、世界で唯一のピンクダイヤ鉱山として知られている。
This year's record-breaking 3.14-carat diamond, named the Argyle Alpha, is one 63 diamonds in the 2018 Tender — a collection so rare it will never reach the open market. The collection is being previewed in Sydney.
The Argyle Alphaと名付けられた記録破りの3.14カラットのダイヤモンドは、2018年Tenderの63個のダイヤの一つであり、決して開かれた市場に行き付くことない極めて稀な商品として現在シドニーで内覧されている。
Argyle Pink Diamonds manager Josephine Johnson said the 51-carat collection would also go on to tour Hong Kong and New York, where a handful of collectors from around the globe would have the opportunity to bid on some of the rarest diamonds in the world.
Argyle Pink Diamondsの支配人であるジョセフィン・ジョンソンは、51カラットのコレクションもまた香港とNYを回る旅を続け、地球上のほんの一握りのコレクターだけが世界で最も稀少ないくつかのコレクションに入札する機会を得る、と言った。
"The Argyle Alpha shares the limelight with another diamond called the Argyle Muse that is over 2 carats, which is also in fact the largest fancy purplish-red we've ever offered at tender," she said.
『Argyle Alphaは、Argyle Museと呼ばれる2カラットを超えるダイヤとともにスポットライトを共有することになる。それは、我々がこれまで所有した中で一番大きなFancy Purplish Redである。』と彼女は言った。
これが上記2つの極上品の画像〜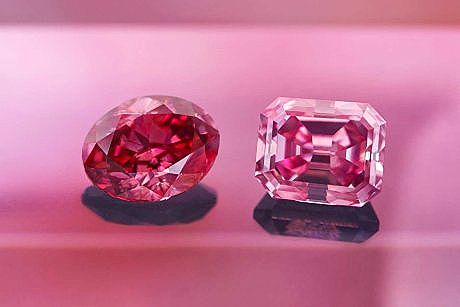 (残念がら、ウッキーの撮影ではないので、ちょっと写りが良くないですね。
まあでも、何となく雰囲気は分かっていただけるのではないかと思います。)
These stones are less than one-tenth of 1 per cent of the mine's production; they are extraordinarily rare.
これらのダイヤは鉱山の生産の中の1%のうちの10分の1であり、超希少品である。
It's really remarkable that this mine, virtually the sole world source of pink diamonds, keeps giving us these super-special gems.
Argyleが実質的に世界で唯一のピンクダイヤモンドの"源"であり、我々に超特上宝石を供給し続けているということは本当に驚くべきことである。
'Bittersweet moment' (ほろ苦い瞬間)for industry
Ms Johnson said the tender's bidding process was becoming fiercely competitive as the Argyle diamond mine's closure loomed.
Ms Johnsonは、Argyle鉱山の閉鎖が近づき、Tenderの入札が非常に激しい競合になってきていると言う。
"It's an incredible rarity that's becoming appreciated the world over and we do see bidding from all corners of the globe for these rare gems," she said.
また、『世界的に有り得なくなってきている驚くべき稀少性を世界の全ての片隅から見ることになる』
"There's growing awareness now that they're just not rare but they're very finite — I can feel already this is going to be a very competitive year.
『現在、認識されることは、(Argyleの生産品が)稀少でなくとも有限であり、今年はまさしく競争的な年であることを感じる』
"With the mine closing by 2021 we've only got two or three tenders to go, so there's an element of sadness that this is coming to an end.
『2021年までにArgyleが閉山になるが、それまでに我々は2度か3度のTenderを開催するであろう。そこには来るべき終焉の悲しみの要素がある。』
"It's a bittersweet feeling amongst all the excitement of the launching of the collection."
『コレクションの進水の全ての興奮の中に"ほろ苦い"気持ちがある。』
   ― 続く ―